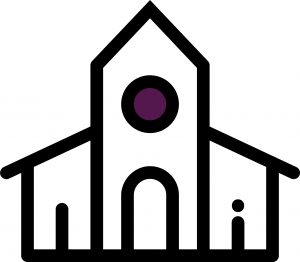 The development of Distance Learning Training Series as a service delivery model uses supplementary educational materials including ministry guides, a video series, PowerPoint Presentations, and additional training activities. This model will provide remote congregations with a cost-effective method to utilize the training, educational materials, and other resources of Faith Partners. These efforts can provide a unique ministry of presence in the areas of prevention, early intervention, referral assistance, recovery support, and advocacy in congregations that would otherwise not have any resources.
The Distance Learning Training Series can be purchased as a complete package or by phase. Pricing options are available for single congregations or multi-congregation organizations.  Fee includes access to digital video content for one year from the date of purchase. Please select your purchase choice and complete payment through PayPal. Once payment has been received, you will be sent codes to utilize the access links below.
Distance Learning Training Series
It's exciting to create and establish a congregational team. But, how can you continue to add new members and welcome their unique experiences, gifts, and talents? It's important for a team to continue to grow and develop – new membership is vital to the life-blood of any team ministry! 
How do you add new members to your already established team? Think of your team as a moving train. A thoughtful "on-boarding" process to orient new team members is critical to their early involvement and investment in the ministry direction. This video series is a valuable tool to orient new and established team members to your congregational ministry.
Readiness happens on an individual, family, congregational, and community level. All of us wrestle with feelings of resistance. This might be due to feelings of shame or the stigma that surrounds issues of addiction and substance abuse. Phase One will allow you to explore these feelings, discuss them with one another, and gauge your level of "readiness." Together, you will take time to look at the "big picture" – the full process of initiating, nurturing and sustaining congregation and community efforts. This is a critical step when recruiting members in your congregation and can be helpful when identifying the individuals who can "champion" this effort, to keep things moving.
For many individuals, spirituality and religion are important components for the prevention of and recovery from substance use disorders. The faith community can be a powerful force of healing for those struggling with substance abuse disorders. However, the intergenerational setting of the faith community is often under-utilized, when adequately addressing prevention and recovery support across the life-span. In this session, you will receive an introduction to the Faith Partners ministry and what that looks like in the context of working with faith communities.
Video 1 "The Role of Faith" (5:07 minutes) Presenter: Drew Brooks
There is a positive correlation between spirituality and lower involvement with risky behaviors. How can we bridge faith and science to respond to substance use disorders and other addictions?
Video 2 "Clergy Perspective" (2:51 minutes) Presenter: Lisa Watson
Our beliefs influence how we react to people with addiction issues. What is the lens that you see through when responding to those still suffering?
Video 3 "The Continuum of Use" (13:28 mins.) Presenter: Drew Brooks
The disease of addiction is ripe with stigma and shame. How you approach this team ministry can either reduce stigma or add barriers to seeking help. How open are you to the many ministry points along the continuum?
In this session, we will discuss what the Faith Partners "team approach" looks like. Our trainers equip lay people with the tools and training needed, so they can provide their faith community with addiction awareness, education, and recovery support resources. Together, we will explore the vision for this ministry and the many different paths you can take when beginning your journey. 
Video 4 "Scope of the Ministry" (7:28 mins.) Presenter: Drew Brooks
There are many possible ministry points or destinations along the continuum to serve your congregation. How might this ministry change the culture of a congregation?
Video 5 "The Roadmap and Team Approach" (4:24 mins.) Presenter: Jan Tipton
The congregation can inform the team in many ways, such as their needs and receptiveness throughout the process. What role does the congregation's missional focus play in setting the direction of the ministry? 
Video 6 "Sample Activities" (13:15 mins.) Presenter(s): Lisa Watson, Jan Tipton, Drew Brooks, Dr. Margaret White, Dr. Pat Meyer
Each congregation has its own personality, culture, values, traditions; which inform what type of activities the congregational membership will respond to best in moving forward. What activities best fit your congregation?
In this session, we discuss what congregational readiness looks like. Building congregational support involves evaluating how prepared your members are to start a new program or ministry, their current level of commitment, and the resources needed to implement an effective effort. You will be provided with tools and strategies to build up support in your congregation and get everyone ready for this new ministry.
Video 7 "Defining Readiness" (5:16 mins.) Presenter: Dr. Margaret White
When planning a trip, we need to know where we are going; but equally important is where we are starting. There are key readiness measures to help congregations assess their launching point for this journey. Where do you see your congregation's starting point for this ministry?
Video 8 "Readiness Tools & Strategies" (8:06 mins.) Presenter: Dr. Pat Meyer
Every congregation starts at a different point in developing readiness. Here are four tools and strategies that will meet people where they are in their experience and understanding and move them toward action. What is needed for your congregation to initiate this ministry?
Video 9: "Building Congregational Support" (6:57 mins.) Presenter: Drew Brooks
A key tool in building congregational support and assessing the needs of the congregation is a congregational survey. Faith Partners provides an in-person as well as an on-line version of the survey. How do you see the survey helping your congregation?
Video 10: "National Study" (7:24 mins.) Presenter: Dr. Pat Meyer
Studies show religious involvement has a positive correlation with lower risk for addiction, but there is little research that indicates the factors helpful to creating an effective congregational response to addiction. Faith Partners continues to investigate and identify helpful ways congregations can address stigma and addiction. What factor do you see as being the most significant for your congregation?
Now that you have evaluated the current "readiness" state of your congregation and some of the things needed to implement this new ministry, together we will explore how to continue to build congregational support, equip the leadership in your faith community, and develop your new ministry team.
New teams need on-going opportunities to learn skills in the five ministry areas. To reinforce these responses, connect to community resources, and to equip team members to function more effectively, additional training needs to be conducted. It is important to develop a plan to continue the educational process by connecting with area community resources to help teams with additional knowledge and skills. These continuing education opportunities can build capacity areas where congregations need skills, enable collaboration with other community resources, and assure the possibility of an effective, sustainable congregational team ministry.
This comprehensive, unique approach led by and advocated for by people in the pews is an innovative way to create a caring, nonjudgmental, safe place to which affected and affiliated individuals and families can turn for education and assistance. In our evaluation, the unit of analysis is on a congregational level. This is appropriate because the approach focuses on environmental change and impact within each participating congregation. A sustained effort will reveal changes in attitudes and behaviors. Over time due to this intervention the assertion is one will see on a post-test survey an increase in participation in and readiness to provide prevention, education, and recovery support activities. 
Video 29: "Planning Your Steps" (6:11 mins.) Presenter: Dr. Margaret White 
It is important to continue to ask ourselves: Are we making progress towards our desired goals or destinations in this journey? Celebrating God's triumphs along the way is an essential part of the process. Does the team take time to evaluate their progress and celebrate the victories big and small?  
Beginning another cycle of team education, planning, and implementation is a natural outcome of the evaluation process because discussion generates new ideas and feedback suggests different approaches. After the first year, which demands a great deal of time devoted to start-up activities, most teams settle into an annual rhythm such as doing continuing education and planning in the fall, conducting programs and offering activities over the winter and spring, evaluating in the early summer, and resting/renewing for the rest of the summer. Many teams also recruit in the spring, while they're active, and use the downtime of summer to orient new members. 
Keeping the team healthy and vigorous requires regular prospecting and recruiting of team members. Always orientate new members by: 
Making them welcome in ways large and small – phone calls from long-term members, a note from the clergy, an invitation to lunch with the team; 
Letting them know how the team works and filling them in on its history; 
Assessing their understanding of the six broad topics the team covered in the education programs and helping them fill the gaps in their knowledge by steering them to the books and tapes members found most helpful; and
Suggesting they begin reading a daily devotional and attending Twelve Step meetings. 
Nor is the orientation process complete without bringing new members into the spiritual community of the team. Retreats work well for this and fulfill another function as well, re-energizing long-term team members. We recommend taking one or two days in the early fall, before you begin your planning cycle, to bring the entire team together for community building, spiritual growth, and renewal.
Video 30: "Ministry Development & Promotion" (8:35 mins.) Presenter: Drew Brooks
Once established your team ministry needs to shine a light on your activities. Outreach is vital to the sustainability of this ministry. There are multiple strategies to make that happen. How do you balance a confidential ministry with sharing its existence?
Video 31: "Team Development & Renewal" (9:11 mins.) Presenter: Dr. Margaret White & Dr. Pat Meyer
Team development starts with a regularly scheduled team meeting and honoring the different personalities with different aspects of the meeting. Remember this is an evolving ministry with changing congregational needs and different receptivity to the various issues being addressed. As the congregation changes so must the capacity and make-up of the team need to change. What special gifts and talents do you bring to the team? 
Video 32: "Resource Development" (5:28 mins.) Presenter: Drew Brooks
Continuing the conversation with changing community resources, developing relationships with community coalition efforts, and established ministries mentoring other congregations are the lifeblood of sustaining these efforts over time. How does your congregation currently collaborate with other community efforts? 
Introduction to the Series